Home
Services Offered
Rushmore Inspection Services offers the following services: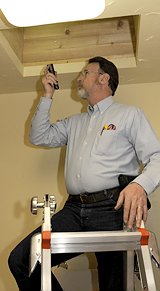 Home Inspection
Non-invasive visual examination of the condition of a home for pre-listing, pre-purchase, and real estate transaction inspections.


Radon Testing
A radon measurement will show radon levels inside a home and indicate whether mitigation is necessary. Radon is the second leading cause of lung cancer.


Pests (Wood destroying organisms)
Pest inspections are required for some loans in some areas to determine if there is an infestation of wood-boring insects like termites, carpenter ants, carpenter bees, etc.
Terry Hipple, Licensed Home Inspector
Thermal Imaging
Infrared (Thermal Imaging) is an advanced technology that is non-destructive and allows the home inspector to see things in your home that appear to be hidden to the naked eye or to conventional inspection methods.
An Infrared Inspection Can Identify And Document:
• Overloaded and undersized circuits
• Circuit breakers in need of immediate replacement
• Missing, damaged and/or wet insulation
• Heat loss and air infiltration in walls, ceilings, floors, windows and doors
• Water and moisture intrusion that could lead to mold
• Possible pest infestation
• Hidden roof leaks before they cause serious damage
• Air-conditioner compressor leaks
• Structural defects
• Broken seals in double-pane windows
• Energy loss and efficiency
• Dangerous flue leaks
• Damaged and/or malfunctioning radiant heating systems
• Unknown plumbing leaks
• Overheated equipment
• and More!
Rushmore Inspection Services does home inspections in the Black Hills region:
Rapid City, Belle Fourche, Spearfish, Deadwood, Lead, Keystone, Hill City, Custer,
Hot Springs, Sturgis, Northern Hills, Southern Hills, Nemo, Hermosa,
Keystone, Whitewood, Belle Fourche, Central City, Deadwood